Mothman
Mothman is a creature or an entity, natural or supernatural, of unknown origin, of unknown existence, unknown capability, and unknown motive.
How Mothmen came to be is important.  However, why Mothman is here is more important.  Are they architects of destruction and disaster?  Are they passive observers, witnessing history in the making?  Or, are they here to partake in our collective suffering and despair?  Whatever their motivation and intent, it is clearly not human, and perhaps by definition incomprehensible to us.
What is a Mothman?
Most observers describe the Mothman as a winged man-sized creature with large reflective red eyes and large moth-like wings. The creature was sometimes reported as having no head, with its eyes set into its chest.
However, there are other creatures that have been reported with similar characteristics.  Of course, remember that eye witnesses do not always describe the same thing in the same way, or use the same terms.  An analysis is needed of the primary characteristics common to all, to determine is another creature might be a misidentified Mothman.
Beliefs
Some UFologists, paranormal authors, and crytozoologists believe that Mothman was an alien, a supernatural manifestation, or an unknown cryptid. In his 1975 book The Mothman Prophecies, author John Keel claimed that the Point Pleasant residents experienced precognitions including premonitions of the collapse of the Silver Bridge, unidentified flying object sightings, visits from mysterious or threatening men in black, and other bizarre phenomena.
UFOlogist Jerome Clark writes that members of the Ohio UFO Investigators League re-interviewed several Mothman "eyewitnesses", all of whom insisted their stories were accurate, and that Linda Scarberry claimed that she and her husband had seen Mothman "hundreds of times," sometimes at close range, commenting, "It seems like it doesn't want to hurt you. It just wants to communicate with you."
Cryptozoologist Loren Coleman claims that sightings of Mothman continue, and told USA Today he re-interviewed witnesses described in Keel's book who said Mothman was "a huge creature about 7 feet tall with huge wings and red eyes" and that "they could see the creature flapping right behind them" as they fled from it.
Mothman Common Criteria:
Large – much taller than an adult man.
Dark – black, pitch, jet, or very dark gray.
No highlighted features – no glossy surfaces or light colored parts.
Red Glowing Eyes – eyes that reflect light or emit light.
Rustling Wing Sound – making a sound with its wings or cloak.
Rarely speaks – infrequently speaks in human language, with a non human sounding voice.
Leaves behind incidental harm – does not seem to purposefully harm humans, but leaves humans contacted with mild to severe injury or illness.
Does not appear to kill – though humans may die indirectly, or deaths attributed incorrectly.
Associated with mayhem - found before, during and after, disasters, plagues, and large numbers of deaths.
Mothman Statue Is Point PleasantWest Virginia's Little Slice of Weird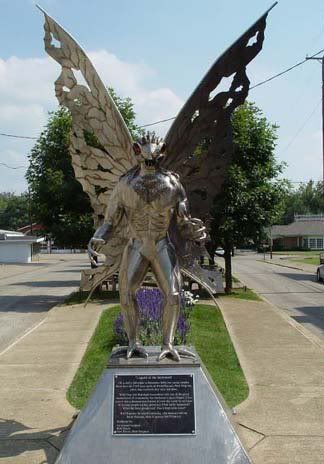 Standing over 12 feet tall on Main Streetacross from Point Pleasant, West Virginia's only post office stands a stainless steel behemoth known as Mothman.
The Mothman, with its impressive wingspan and huge red eyes that glow when
the sun hits them pays homage to John Keel's book "The Mothman Prophecies" and the Richard Gere flop of the same name.
This isn't so surprising, considering paranormal enthusiasts and cryptozoologists flock to Point Pleasant, W.V., year after year for the small town's Mothman Festival (including a Miss Mothman Pageant).
The celebration commemorates Point Pleasant's most famous resident: a creature spotted by some teenagers out for a drive one night in the town's outskirts. They claimed the thing stood 7 feet tall, took flight and buzzed their car (which they were driving at speeds in excess of 100 mph).
Some 30-odd years after the sighting, the town erected a statue in the beast's (supposed) image in the former Gunn Park, which has since been renamed "Mothman Park."
Since then, hundreds have traveled to the tiny riverside city to try to find the creature. From paranormal researchers to college students out for a good time and a chance to scare their girlfriends, the Mothman gave the town a source of income and many ways to scare visitors.
What started as a sighting by a handful of residents has ballooned into an
industry of guided tours, books, T-shirts and tales of satanic cults, alien abductions and strange government experiments.
Next to the statue, there is a small coffee shop (The Point) that sells numerous books, figurines and shirts adorned with the creature's visage. They even have a plywood cutout in front of the shop for visitors to take pictures with. Jeff Wamsley, a local business owner, has made quite a living selling Mothman merchandise and operating the Mothman Museum within walking distance of the statue.
Some may accuse the residents ofPoint Pleasant of crassly profiting on a small (probably) fabricated blip of history, but we always appreciate a reason to celebrate the weird.
Link: category ~ mothman posts